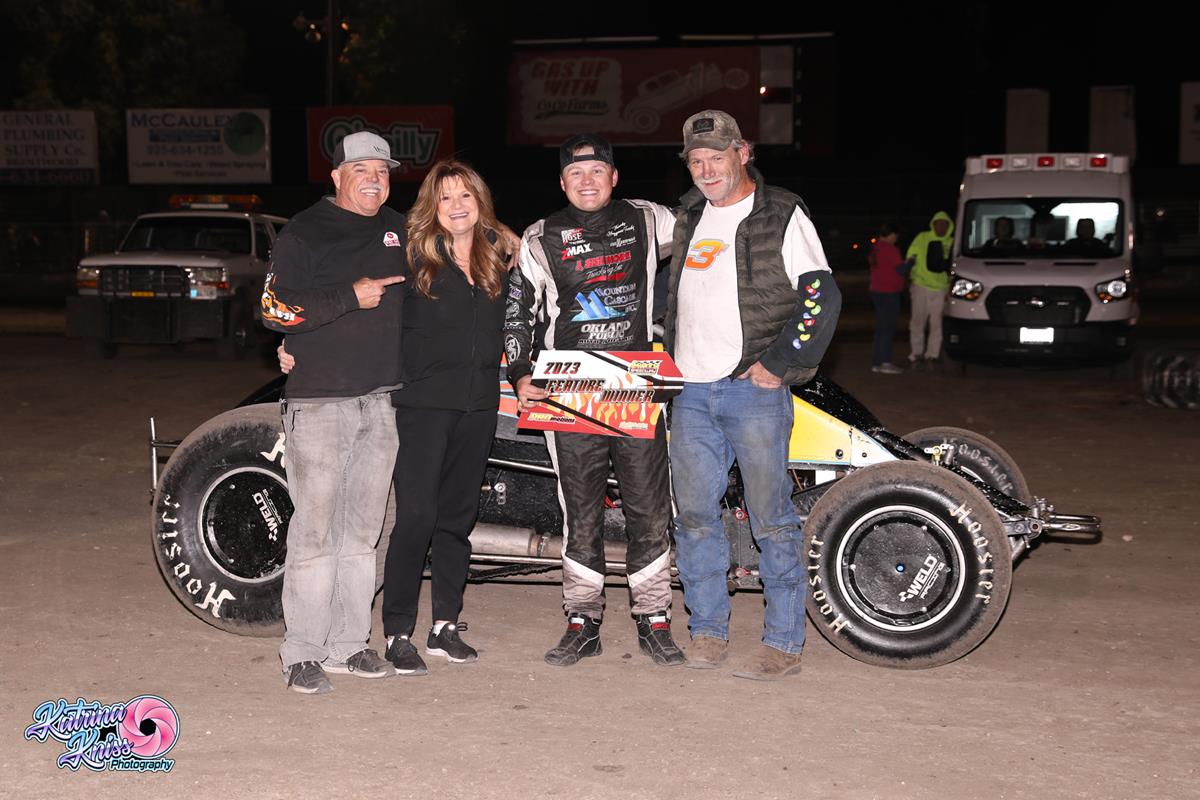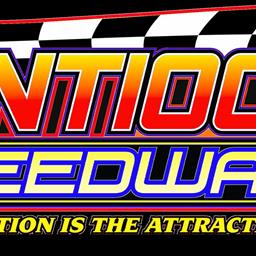 11/2/2023
Antioch Speedway
---
Micheli, Hannagan, Learn, Wrap Up Championships With Antioch Speedway Wins
Antioch, CA...October 28...Matt Micheli of Live Oak won the 40 lap Xtreme Late Model Main Event Saturday night at Antioch Speedway. This was the season finale for the track and for the traveling organization. Micheli had won the Soares Memorial race at Antioch back in June, and he used this win to wrap up the series championship after a close battle with Rod Oliver of Yuba City.
Oliver and Micheli started on the front row with Oliver setting the early pace. Micheli made a Turn 3 pass on Oliver to take the lead on the fourth lap, and Oliver brought out a yellow flag on Lap 6. Micheli led Anthony Slaney of Martinez and Shawn DeForest of Livermore on the restart. DeForest surrendered third to Tyler Lightfoot of Placerville on Lap 13 before a yellow flag waved for debris three laps later.
The first restart attempt saw Slaney eliminated in a Turn 2 crash. Micheli led Chester Knss of Antioch and DeForest on the next restart. Following a yellow flag on Lap 25, Micheli led Oliver and DeForest. DeForest went high in Turn 4 on Lap 28 to take second and made an outside pass on the front stretch on Lap 32 to briefly take the lead. However, he got caught behind a slower car a lap later as Micheli went motoring by on the inside in Turn 4 to regain the lead. Micheli led the rest of the way in victory, followed by DeForest, Oliver, Lightfoot and Kniss.
Joel Hannagan wrapped up the championship with his seventh 20 lap Hardtop win of the year aboard the Doug Braudrick owned Junkyard Dog. The race was restarted a couple of times with Brad Coello of Oakley eliminated early on. Mike Gillard of Atwater set the early pace ahead of Hannagan, but a Turn 4 pass on Lap 2 put Hannagan into the lead. Mike Friesen of Atwater was an early third, but Rick Elliott of Merced made a Turn 4 pass on Lap 3 to claim the position. Elliott started getting pressure from Roger MacShain of Roseville before MacShain made the move into third on the ninth lap. Hannagan began to pull away and held a straightaway advantage over Gillard by the time the checkered flag flew. MacShain was the final lead lap finisher in third, followed by Elliott and Friesen.
Mike Learn won the 20 lap Super Stock Main Event, adding the Antioch championship to his title at Petaluma Speedway. This was also his fifth win at the track this year. Past Petaluma champion Randy Miramontez of Santa Rosa set the early pace ahead of Learn and Buddy Kniss of Oakley. A low pass in Turn 1 of the seventh lap gained Learn the lead. A tangle between Kniss and Miramontez brought out a Lap 10 yellow flag. Learn led Donny Richardson of Antioch on the restart, but Kniss was back in third on a Lap 12 restart. Learn led the rest of the way for the win with Kniss second ahead of Miramontez, Cody Smith of Coalinga and William Henry of Penngrove.
Blake Bower of Brentwood drove the Ted Finkenbinder owned Wingless Spec Sprint to a 25 lap Main Event win. This follows up his victory in the Panfili Cup at the previous race. Bower led from the outset following a restart for a Turn 2 tangle involving Steve Maionchi of Sonora and Bob Newberry of Brentwood. Bower led Dylan Newberry of Brentwood and Bob Newberry on the restart. As Bower pulled away in victory, Dylan led uncle Bob in a close battle for second. Bob Newberry tried a last turn maneuver to get by, but Dylan Newberry held him off to finish second. James East of Oakley and Maionchi rounded out the Top 5.
Tom Brown of Santa Rosa finally won his first Print Club Mini Stock Main Event of the season. The two-time Antioch champion also won the Petaluma Speedway title this year. New track champion Tom Davis of Los Molinos set the early pace ahead of Brown and Tony Quinonez of Corning. Josh Applebaum of Antioch maneuvered into third by Lap 6. Brown slipped past Davis for the lead on Lap 15, and Davis headed to the pits with motor issues. Motor problems also cost Applebaum a Top 3 run, and Brown cruised to victory ahead of Quinoinez, Patrick Kelley of Clovis, David Carson of Antioch and Davis.
This wraps up the 2023 season. Plans are already underway to make next season even better. For further information, check out www.raceantiochspeedway.com or go to the Antioch Speedway by PROmotions Facebook page.
Antioch Speedway Race Results
Xtreme Late Models
Heat Winners (8 laps)-Rod Oliver, Matt Micheli. Main Event (40 laps)-Matt Micheli, Shawn DeForest, Rod Oliver, Tyler Lightfoot, Chester Kniss, Anthony Slaney, Michael Anderson, George Magenheimer, Justin Yeager, Evan Craig.
Hardtops
Heat Winners (8 laps)-Joel Hannagan, Gary Hildebrand. Main Event (20 laps)-Joel Hannagan, Mike Gillard, Roger MacShain, Rick Elliott, Mike Friesen, Don Slaney, Ken Clifford, Matt Collins, Joe Shenefield, Ronnie Ruiz.
Wingless Spec Sprints
FT Dylan Newberry 15.039. Heat Winner (8 laps)-Blake Bower. Main Event (25 laps)-Blake Bower, Dylan Newberry, Bob Newberry, James East, Steve Maionchi, Anthony Bruno, Jim Perry III DNS.
Super Stocks
Heat Winners (8 laps)-Mike Learn, Buddy Kniss. Main Event (20 laps)-Mike Learn, Buddy Kniss, Randy Miramontez, Cody Smith, William Henry, Donny Richardson, Chester Kniss, Daneeka Garretson DNS, Frank Furtado DNS.
Print Club Mini Stocks
Heat Winner (8 laps)-Tony Quinonez. Main Event (20 laps)-Tom Brown, Tony Quinonez, Patrick Kelley, David Carson, Tom Davis, Jackie Price, Josh Applebaum.
---
Article Credit: Candice Martin
Submitted By: Wylie Wade
Article Media
Back to News