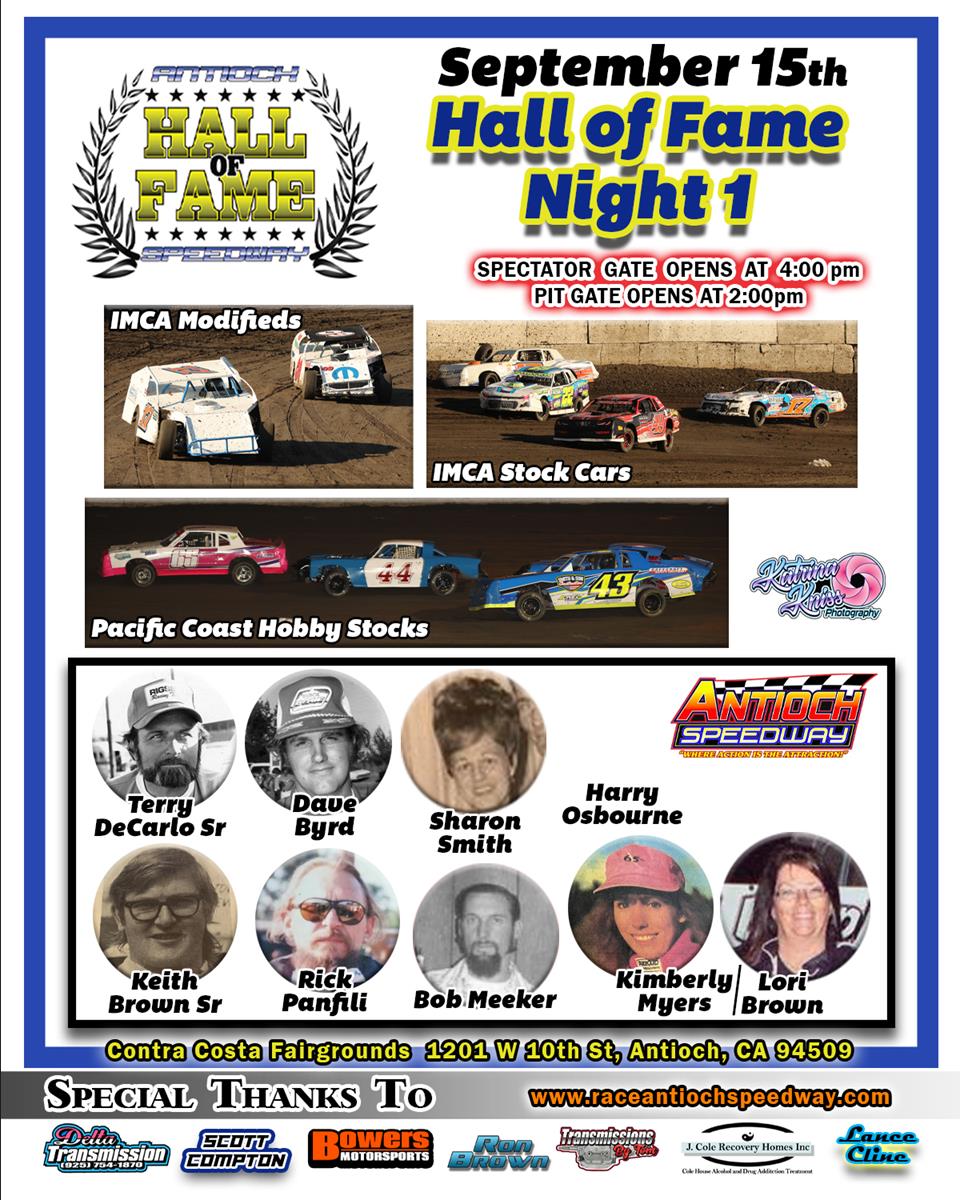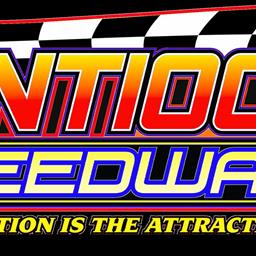 9/14/2023
Antioch Speedway
---
Hall of Fame, IMCA Championship Weekend Coming To Antioch Speedway
By Candice Martin
Antioch, CA...The racing tradition that takes place at Antioch Speedway on any given Saturday night during the spring, summer and fall weekends began in 1961 at the Contra Costa County Fairgrounds. Racing had been taking place in the county at Contra Costa Speedway in Pacheco from 1948 to 1960, and Antioch Speedway started running weekly races when the Pacheco track closed to allow the freeway to be built.
The Hall of Fame was established in October of 2018 and would become a part of the Soares Memorial Night. The Soares family promoted the track for 42 years, and John and Donna as well as John and Gladys are in the Hall of Fame for the efforts they made to keep the gates open.
This year, the track tried to work with other speedways to avoid scheduling conflicts. A two-race weekend was booked in order to make sure all three IMCA sanctioned divisions could be hosted. Thusly, the IMCA Modifieds and IMCA Stock Cars will have championship night on Friday, while the IMCA Sport Modifieds will run their point finale on Saturday.
Joining the two IMCA classes on Friday will be the popular Pacific Coast General Engineer Hobby Stocks, while the Xtreme Late Models, Wingless Spec Sprints, Print Club Mini Stocks, Delta Dwarf Cars and Super Stocks race on Saturday. Some of those divisions still have another point race remaining on their schedule, but what happens this weekend will affect those battles.
The other thing happening during the weekend is Hall of Fame induction ceremonies. Director Chris Briggs assembled a committee to select 13 inductees into this year's class. Most of them will be inducted on Friday, when there's a bit more time, but some of them will also be honored on Saturday.
The Hall of Fame includes people who have impacted the sport as racers, officials, and supporters behind the scenes. The people being honored this week have raced from the 1960s through the current year, and all have made a positive mark on the sport.
One of the greatest drivers to ever get behind the wheel of a Sportsman was Gene Dothage. Gene ran wheel to wheel with some of the greats who are in the Hall of Fame now, and he left with the winner's trophy on many occasions. In fact, he was the guy they had to beat to win the title from 1971 through 1973, finishing runner up in all three seasons. He won 12 Main Events. The Dothage family continues racing with his son Brent a Sprint Car champion and grandson Driever Dothage currently getting his first laps in Sprint Car racing.
Keith Brown Sr enjoyed many nights racing with his Hall of Fame father Bill Brown in the Sportsman division. He went on to race Late Models and IMCA Modifeds, winning over 30 Main Events in his career. He was Top 5 ranked in point standings multiple times and won the the Antioch/Chowchilla championship in 2004. These days, Keith shares his extensive knowledge as part of the Hogge Racing team.
In the 1980s, Antioch Speedway had a tradition. They ran the 100 lap Bob Meeker Classic in honor of the 1978 Stock Car title winner. Bob was Top 5 ranked twice before winning the championship, and was beloved by the racing community. When he passed away, they named the race after him that became the crown jewel of the schedule for several seasons.
When the Sportsman division was retired, the track needed something to get the fans more excited about Stock Car racing and the newly created NASCAR Regional points race. In 1982 and 83 they got it with legendary battles between Dave Byrd, JD Willis and Jim Pettit II. Byrd won the 1983 Regional championship and beat Willis by a combined total of 10 points to win two track championships. He went on to win several championships in pavement racing. He now joins rivals Willis and Pettit in the Hall of Fame.
The track needs somebody to guide it. Without good leadership, the gates don't open. Brynda Bockover and her husband George Stiles were brought in prior to 1988 to run the track for BBA Incorporated. George had been battling cancer but was in remission. Sadly, it came back with a vengeance, and he passed away prior to the 1988 season opener. NASCAR brass felt they had the right person for the job in Brynda, who was named the General Manager.
She had worked side by side with her husband and knew the ins and outs of the business. She had a sort of trial by fire, and her critics were doubting her credentials from the start. However, Brynda kept the gates open for 10 years and instituted new divisions, such as the IMCA Modifieds and Hobby Stocks as well as the NCMA Modifieds, which spawned the Wingless Spec Sprints. Her impact on the track can be felt to this day.
Wingless Spec Sprint founder Don O'Keefe Jr, Stock Car/Modified racer Terry DeCarlo, Super Stock champion Lori Brown, Limited Late Model/Street Stock racer Kimberly Myers, Figure 8/Stock Car racer Mike Conley, Longtime Wingless Spec Sprint supporter Rick Panfini, longtime scorekeeper Sharon Smith and 1970s announcer Harry Osbourne will also be inducted this year during the two-race weekend.
Not to be lost in the shuffle is the racing that will take place on both nights. In IMCA Modified and Stock Car competition, it seems a mere formality that Bowers Motorsports and driver Troy Foulger of Oakley will wrap up two championships.
Car owner Billy Bowers, who seems destined to one day join his father in the Hall of Fame, has teamed up with Troy to win six track championships in Modified competition, but they are also the first team that will win two championships with a Stock Car trophy also headed for their mantle.
Andrew Pearce of Oakley has fought valiantly to try to win IMCA Modified National Rookie of the Your honors, and he will win that title in the Western Region and at Antioch Speedway, where he's collected four feature wins this year. The son of now Hall of Famer Terry DeCarlo, Nick DeCarlo of Martinez, is holding down third in IMCA Modified championship racing as he looks for his first win of the year.
Nick has won an IMCA Stock Car Main Event along with his brother, Terry DeCarlo Jr of Martinez. It's a foregone conclusion that Jason Robles of Rio Vista will repeat as runner-up in the point battle, but he'd like to notch a victory.
Jason volunteers time every week at the track to prepare the racing service. Son Kenneth Robles of Rio Vista will end up third, while Scott Foster of Oakley is just four points behind two-time reigning champion Travis Dutra of Concord in the quest for fourth.
The bigger battle is taking place in the IMCA Sport Modifieds. Following his first win of the season last time out, Brentwood's Trevor Clymens has moved to within six points of Pacheco's Kenny Shrader in the championship chase. Both Shrader and point runner up Jason Ryan Jr of Oakley are three-time winners, and Ryan is only trailing Shrader by one tally. Technically, Antioch's Mark Garner is in the hunt, just 11 points out in fourth. One of these drivers will win the championship.
For added emphasis, Clymens and Ryan are also battling hard for the IMCA State championship. This season, Antioch drivers will win all three IMCA State titles as Foulger is headed for the Stock Car crown and Pearce will win the Modified title. Ryan clings to a 19 point lead in the most recent IMCA Sport Modified State point update, but the first weekend of September has not been factored into those totals.
The Wingless Spec Sprints will still compete for the Panfili Cup on September 23rd, but Saturday's race is important. Jarrett Soares of Gilroy picked up his second win last time out, giving him a 44 point lead over Oakley's James East. Three-time winner Jacob Tuttle of Oakley and two-time champion Bob Newberry of Brentwood are locked in a tie for third, 36 points behind East.
With four wins to his credit, Grayson Baca of Brentwood is 56 points ahead of previous winner Ken Johns of Antioch in the Hobby Stock battle. They have two races remaining. Kevin Brown of Oakley holds third in the standings, 30 tallies ahead of the tied Aidan Ponciano of Oakley and Colten Haney of Brentwood.
Unless he stumbles badly, Tom Davis of Los Molinos will collect the Print Club Mini Stock championship. The seven-time winner leads Delbert Rios Racing teammate Tony Quinonez of Corning by 128 points. Tony is only 21 points ahead of previous champion Tom Brown of Santa Rosa in a closer race for second with two races remaining.
Past Tri State and Petaluma Speedway champion Mike Learn is 18 points ahead of three-time Antioch champion Jim Freethy of Danville with two Super Stock races remaining, while Chad Hammer is 22 points out in third. The Delta Dwarf Car title is within a few points of leader Chance Russell of Antioch and Devin Kammermann of Dublin with two races remaining.
An Xtreme Late Model point listing has not been released, but the record shows that reigning champion Dan Brown Jr. of Lincoln, Matt Micheli of Live Oak and Andrew Pearce of Oakley are the feature winners so far.
Fans haven't seen racing at Antioch Speedway since August, but this is an opportunity to check out two events. Plus, there's the added bonus of celebrating the history of a race track that spans 60 years as 13 people will be inducted into the track's Hall of Fame.
The gates will open each night at 4:00 with the first race starting at 6:00.
Adult tickets are $20, Senior/Military $15, Kids (5-12) $15 and kids four and under free.
For further information, go to www.raceantiochspeedway.com or check out the Antioch Speedway by PROmotions Facebook page.
---
Article Credit: Candice Martin
Submitted By: Wylie Wade
Article Media
Back to News