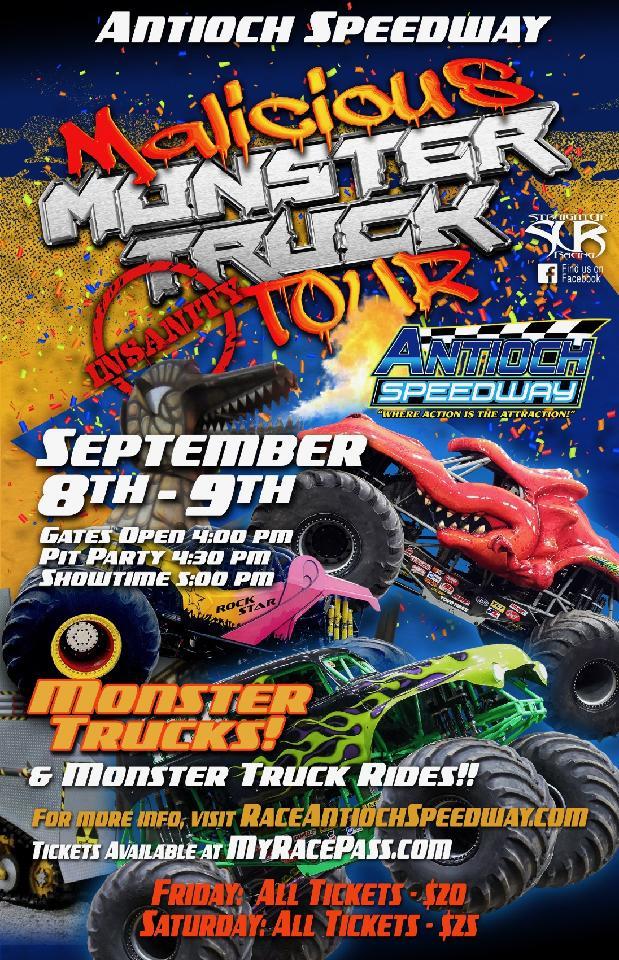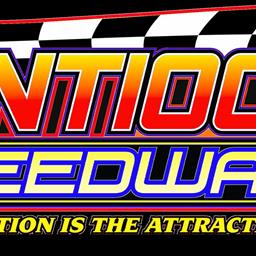 ---
Malicious Monster Truck Tour Returns To Antioch Speedway
By Candice Martin
Antioch, CA...In recent years, a tradition has begun at Antioch Speedway. The weekend following Labor Day brings the fans something very special. It's the Malicious Monster Truck Insanity Tour, and they are coming to town on Friday and Saturday night for two appearances.
Every year, the tour brings these popular gargantuan trucks to different locations up and down the West Coast. Popular trucks such as Rock Star, California Kid, Identity Theft and Spitfire delight the crowds as they drive over the buried cars and get major airtime.
Fans see them perform tricks, such as driving on two wheels. Spitfire is known for breathing fire. There's also the popular Jett Car that makes an appearance during intermission. The cart spits fire out of the back with a loud boom. You can feel the heat as it passes in front of the grandstands.
The Monster Trucks are a popular attraction for the family. The tour even brings ride along trucks to give the fans an opportunity to experience what it's like to ride in one of these big vehicles. Rides are offered throughout the evening.
Throughout the night, the vehicles compete in different events to the delight of the crowd. The judges declare the winner when it's all done, but the real winners are the fans who get treated to something special that they don't see at the speedway every week.
Racing will return with Hall of Fame night on the 15th and 16th, but this Friday and Saturday is all about watching some of the most exciting, gargantuan vehicles you will see anywhere. You have to see it to believe it.
Tickets are available on the track's My Race Pass site https://www.myracepass.com/tracks/1055/schedule?fbclid=IwAR1OLTkazL9xP6dCYVOz_rudTJOpwHrZN-5VZc3S38JpUc3M7Wt4jt2iKSQ
If you order online by September 7th, admission is $20 on Friday. Otherwise, it's $25 at the gate or for Saturday night. Gates open at 4:00 both nights, the pit party is at 4:30 and the event starts at 5:00.
For further information, go to www.raceantiochspeedway.com or check out the Antioch Speedway by PROmotions Facebook page
---
Article Credit: Candice Martin
Submitted By: Wylie Wade
Article Media
Back to News