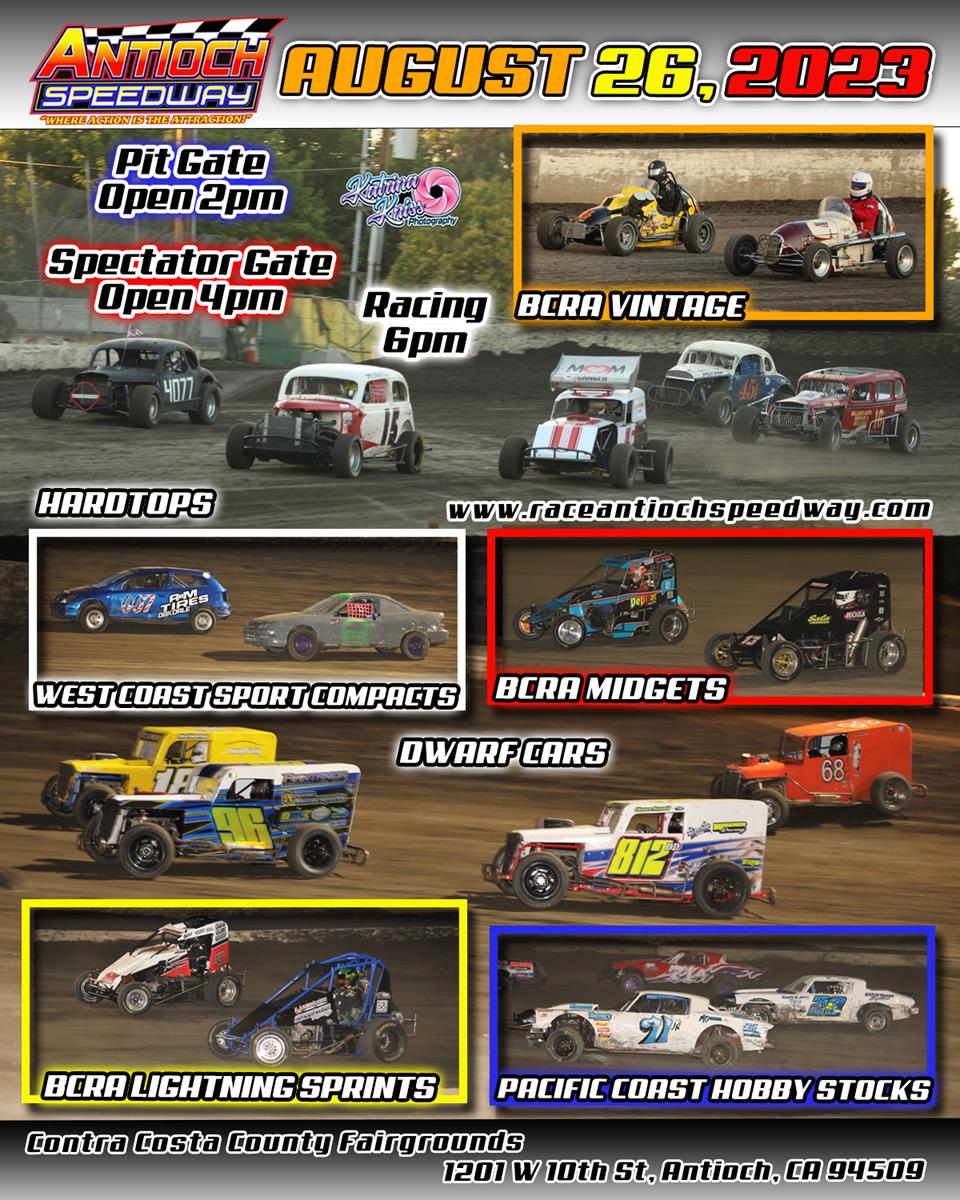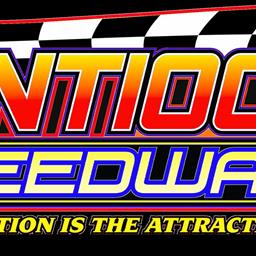 8/22/2023
Antioch Speedway
---
BCRA, Hobby Stocks, Mini Stock Tour Highlight Saturday Night At Antioch Speedway
By Candice Martin
Antioch, CA...It seems like the year has just flown by. This Saturday night will be the final race of August at Antioch Speedway, and it's a lineup that will offer a little something for everybody.
The Bay Cities Racing Association returns with all three of their divisions, Midgets, Lightning Sprints and Vintage Midgets. The popular Pacific Coast General Engineering Hobby Stocks are back along with a visit from the West Coast Sport Compacts, Delta Dwarf Cars and the Hardtops.
The BCRA is the oldest California based sanctioning body in the United States, and their roots date back the 1930s. At one time they had a highly successful Midget tour along a Hardtop tour that would compete several times each week at various Northern California tracks.
Admittedly, the BCRA Midgets have struggled in recent years to rebuild a car count, but there's been a big effort within BCRA to bring them back to prominence. They created the Triple Crown Series as a way to entice the drivers back into action.
Antioch Speedway hosts all three of those events. This race will also pay tributre to car owner/driver Doug Bock. The Midgets will compete for $2,000 to win among an increased purse. Antioch Speedway is excited about hosting these events. If the first race is any indication, the effort BCRA is undertaking to rebuild its car count is taking hold.
20 drivers competed in the first race back in April, and Castro Valley's Jake Andreotti of collected the victory. Recently, Jake returned to Antioch with USAC and scored a second place finish in that race as well.
Jake was chased at across the line in the April race by Caden Sarale of Stockton and WMR champion Blake Bower of Brentwood. He has an 11 point lead over Jake Morgan of Fair Oaks in the point battle with Sarale 12 points back and the tied Bower in Bryant Bell of Oakley 19 points out.
In the interest of giving the fans a show, BCRA even invites the WMR Midgets with the Ecotec engines to come take part. At the last Antioch race, Hall of Famer Floyd Alvis of San Carlos competed. To say he is a legend of BCRA racing is an understatement. Floyd has won ten titles with the group. Now in his '80s, it's more about just having fun and being a part of the show, but it's good to see this legend in the field with the group.
The Lightning Sprints are a bit more active these days. The last time they were in Antioch back in June, Dakota Albright of Waterford was taking control in the point standings from Greg Dennett of Livermore.
Albright has been on a bit of a roll with five feature triumphs, giving him a 45 point advantage over three-time winner Dennett. Cody Meyer of Placerville has a solid hold on third, followed by past champions Hunter Kinney and Scott Kinney, both of Citrus Heights.
The Vintage Midgets are a glimpse into the way things were with Midget racing back in the 1940s and '50s. The drivers were a bit more daring back in those days with their open cockpit race cars. These are some of the most beautiful cars that you'll see at the speedway.
Though these drivers aren't competing, they put on a little bit of an exhibition race for the fans. Jim DeJong of Pacifica is anticipated along with David Anstead of Merced and Mike Cossey of Windsor.
Shifting gears to the Hobby Stock division, four-time winner Grayson Baca of Brentwood seems to have hit his stride. He needs to avoid a major stumble at this point as he carries a 60 point advantage over Ken Johns of Antioch into this race. 34 points behind Johns in the race for second is Kevin Brown of Oakley.
Brown is only trailed by 14 points by young Colten Haney of Brentwood in a closer race for third. With a pair of victories to his credit, Jared Baugh of Pittsburg is only 22 points behind Brown. Baugh will reportedly be missing some races, which opens the door for Aidan Ponciano of Oakley and Jess Paladino of Brentwood to make a possible move into fifth.
To further add to the fendered racing excitement, the Speedway will be welcoming the House of Juju West Coast Sport Compact Tour. A few drivers, led by Dan Myrick of Lemoore, did a test practice at Lemoore Raceway in 2016 and launched the tour a year later at the Micro Sprint track.
The group competes for the biggest dirt track Mini Stock purses on the West Coast and provides some exciting, competitive racing. Currently, Myrick holds a 24 point advantage over Merced star Austin Sprague. Myrick is a past champion with the group. Eddie Humphrey III of Torrance is just 24 points behind Sprague and two ahead of Hanford's Gene Glover. Glover is tied with Kevin Thompson of Hanford for fourth.
The WCSC will bring a competitive field to challenge the local stars, which should include seven-time winner and point leader Tom Davis of Los Molinos in the Delbert Rios owned entry. Davis is firmly in control of the Antioch point lead with Corning's Tony Quinonez now 21 points ahead of reigning champion Tom Brown of Santa Rosa. David Carson of Antioch and Don Abitz of Pittsburgh make up the balance of the Top 5 in Antioch points going into the evening.
The Delta Dwarf Car Association finally released their point standings. It does not factor in the throwaways that are allowed when the season is concluded. Currently, Chance Russell of Antioch leads Dublin's Devan Kammermann by eight points. Those two had a fierce battle for third last week, won by Kammeramann. Both have wins this season, and Kammermann has done it twice.
Placerville's Joe LeDuc has a firm hold on third, 50 points ahead of Pete Piantanida of Discovery Bay. Just six points behind Pete is Antioch's David Michael Rosa. Last week was one of the better races for the group, won by reigning champion Danny Wagner of Bay Point.
Rounding out the exciting lineup will be the fifth appearance by the Hardtops. All four wins have gone to San Jose's Joel Hannagan in the Doug Braudrick owned Junkyard Dog. Hannagan now has a 32 point lead over a close battle for second.
Ronnie Ruiz of West Sacramento leads Brad Coelho of Oakley by just two tallies in the runnerup battle. Holding a solid fourth in the standings is Joe Shenefield of Modesto, while Don Slaney of Martinez is fifth in the standings, just six points ahead of Ken Clifford of Placerville.
The lineup offered this week will give the fans some great open wheel and fendered race car action along with some beautiful vintage race cars. It's the perfect way to end the month of August at the speedway as we head into the Labor Day break.
The gates will open at 4:00 with the first race starting at 6:00.
Adult tickets are $20, Senior/Military $15, Kids (5-12) $15 and kids four and under free.
For further information, go to www.raceantiochspeedway.com or check out the Antioch Speedway by PROmotions Facebook page.
---
Article Credit: Candice Martin
Submitted By: Wylie Wade
Article Media
Back to News